Withernsea Pier and Promenade Association
Chairman Torkel Larsen
Vice-Chairman Dave Edwards
Secretary Kevin Watson
Treasurer Rachel Larsen
News/Media Matthew Lloyd and Richard Harris
Fundraising Karl Senior
Next Meetings
Thursday 11th May 7.00pm at 2 High Brighton Street
Thursday 1st June 7.00pm at 2 High Brighton Street
Thursday 6th July 7.00pm at 2 High Brighton Street

News Update April 2017
The Feasibility Study, funded by Withernsea Big Local has now been done, and the report received. In layman's terms, the result is that to rebuild a Pier at Withernsea IS feasible. So we have the green light to go ahead and concentrate on funding construction. There is still an amount of work to be done on research (foundations, piling types, coastal effects), but the Pier is now one step closer to being built!
We have used the donation from Tesco to print leaflets and make Pin badges, which will be used to raise awareness at events in the Town. Two large "pop-up" banners highlighting the Pier Project have been funded by a private sponsor, which will be used at events to attract interest and detail explanations of the project and why it is important.
We will be attending The Great British Coast National Conference and promoting our project.
Plans are afoot to use the Pier Towers, with the permission of ERYC, to promote the Pier project at events this summer.
A Request for Screening and Scoping Opinion has been sent to ERYC to clarify what enironmental studys etc we need to undertake.
News Update February 2017
After funding was secured for a Feasibility Study (from BigLocal), invitations to tender were sent out to eight interested firms. Following the closing date for tenders, the replies were evaluated thoroughly at the January 12th meeting of the WPPA, and reduced to a shortlist of two. After replies had been received to a number of queries on both Tenders, a further meeting was held on January 27th, and the decision was made to award the work to A&F Consulting Engineers LPP.
A Steering Group Meeting and site visit was held on Friday February 3rd.
This is a real milestone for the initial phase of the project!
The primary objectives of the study are to:
- Evaluate the proposed construction and suggest any suitable construction options.
- Identify any further studies that may be required and the possible cost implications.
Specify which of these are needed for Stage One, and for the whole project.
- To determine a rough cost of each of the four stages of construction.
- Provide a step by step plan to complete Stage One.
The final report is expected middle of March 2017.
Funding has also been received from the local Tesco's, which will be used to help produce badges and leaflets to further the promotion of the project, and get word out and create more interest. A presentation was made by both the Service Manager and Community Champion with five of the WPPA members, and the Gazette Photographer was on hand to record the event. This was published in the Gazette of February 2nd 2017.
The application to register as a charity was turned down by the Charities Commission, the project did not meet their criteria. Discussions about the future of the WPPA could include the WPPA becoming a CIC (Community Interest Company) Meanwhile, the WPPA has now been registered as a Company, Limited By Guarantee, and registered at Company's House.
The WPPA Bank Account is all set up, with monies paid in, hopefully more to follow through fundraising events in the future and donations/grants.
The position of Vice-Chairman, which had become vacant, has been filled by D Edwards. Richard Harries, recently joined, has been seconded to assist the News and Media position.
Our Business Plan is being drafted and updated
News Update December 2016

We are pleased to announce that our application for funding from Withernsea Big Local has been approved. WBL have agreed to fund a feasibility study for the Pier. It will verify our plan, give us a better idea of costs, and determine if our goals are achievable.
News Update November 2016
We are in the process of crafting a consultant brief, to be presented to businesses that can carry out a feasibility study. We have been liaising with East Riding, Withernsea Big Local, and multiple engineering companies while we put it together.
News Update September 2016
WPPA are grateful to have secured £200 of funding from the local Tesco store in Withernsea, for the production of leaflets and stickers to promote the group and our objectives.
THE MERMAID RETURNS
A mermaid tale by Richard Harris

Media coverage
From The Holderness Gazette 16th March 2017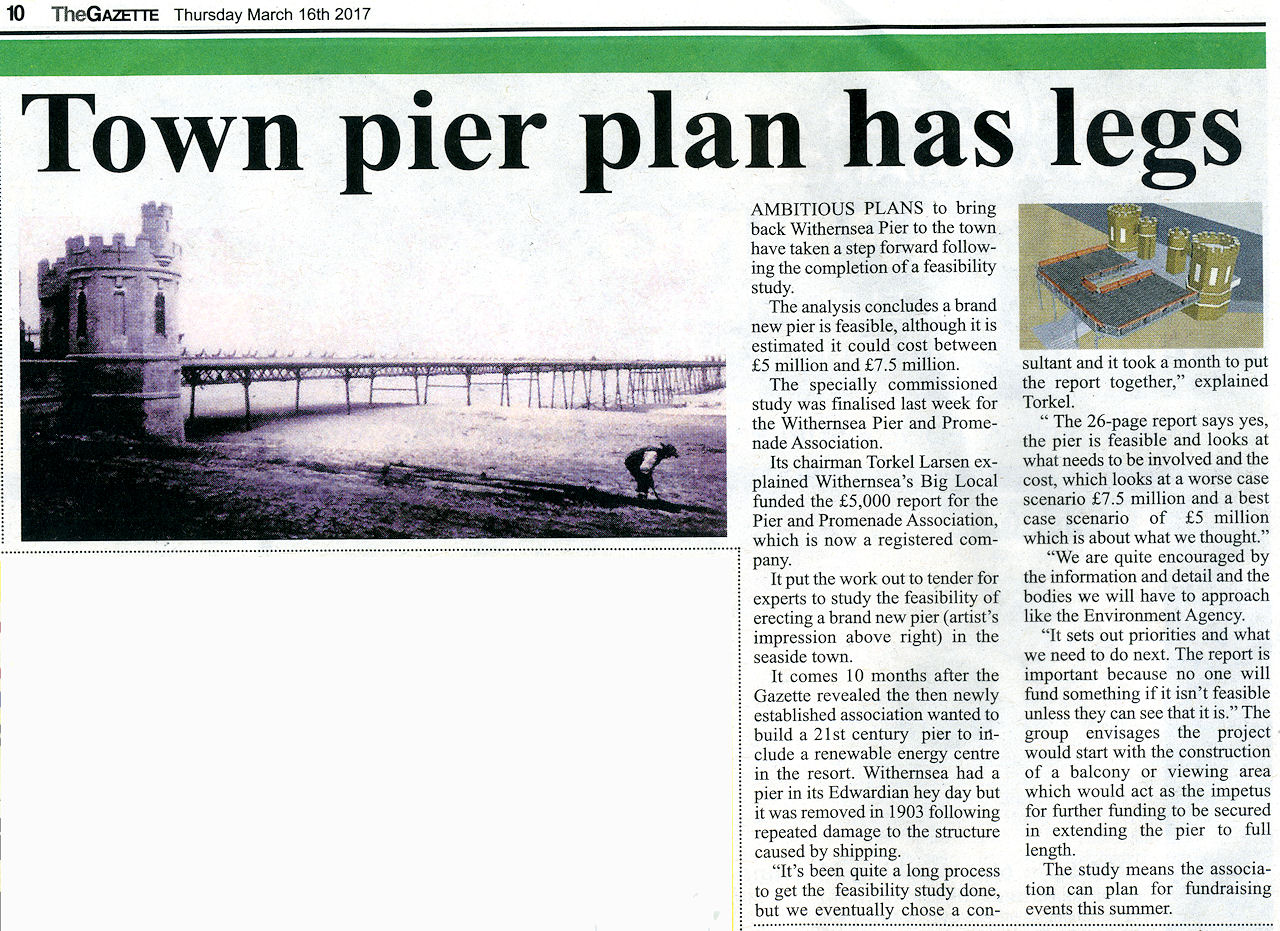 From The Holderness Gazette 2nd February 2017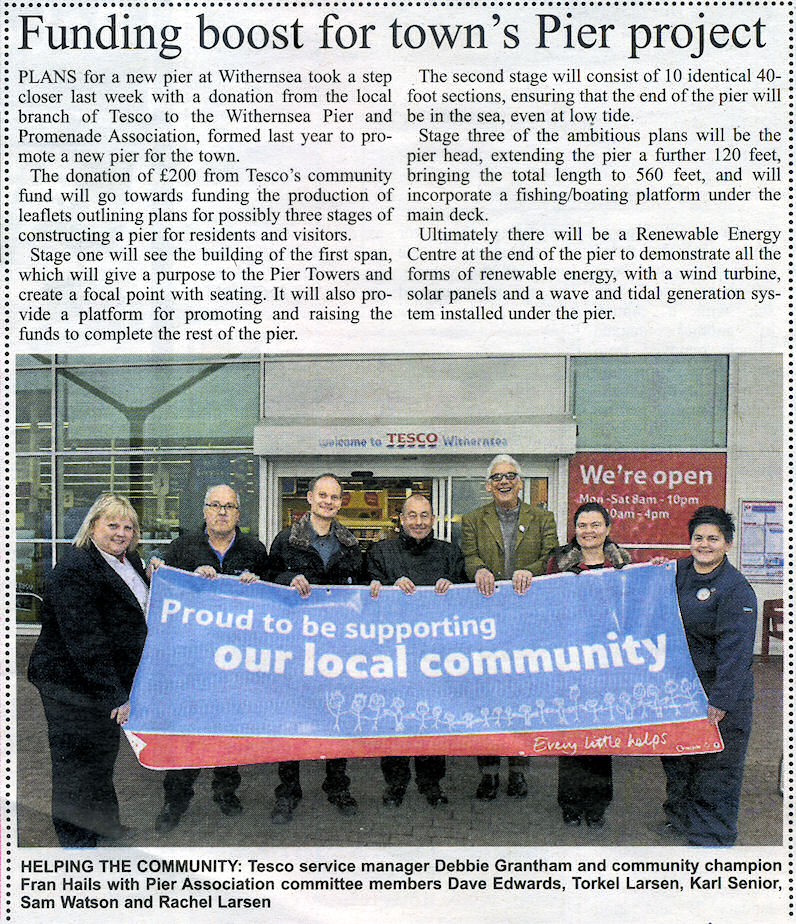 The news about the pier reconstruction was first announced by the Holderness Gazette who put the article below on it's front cover on Thursday, May 5th 2016 :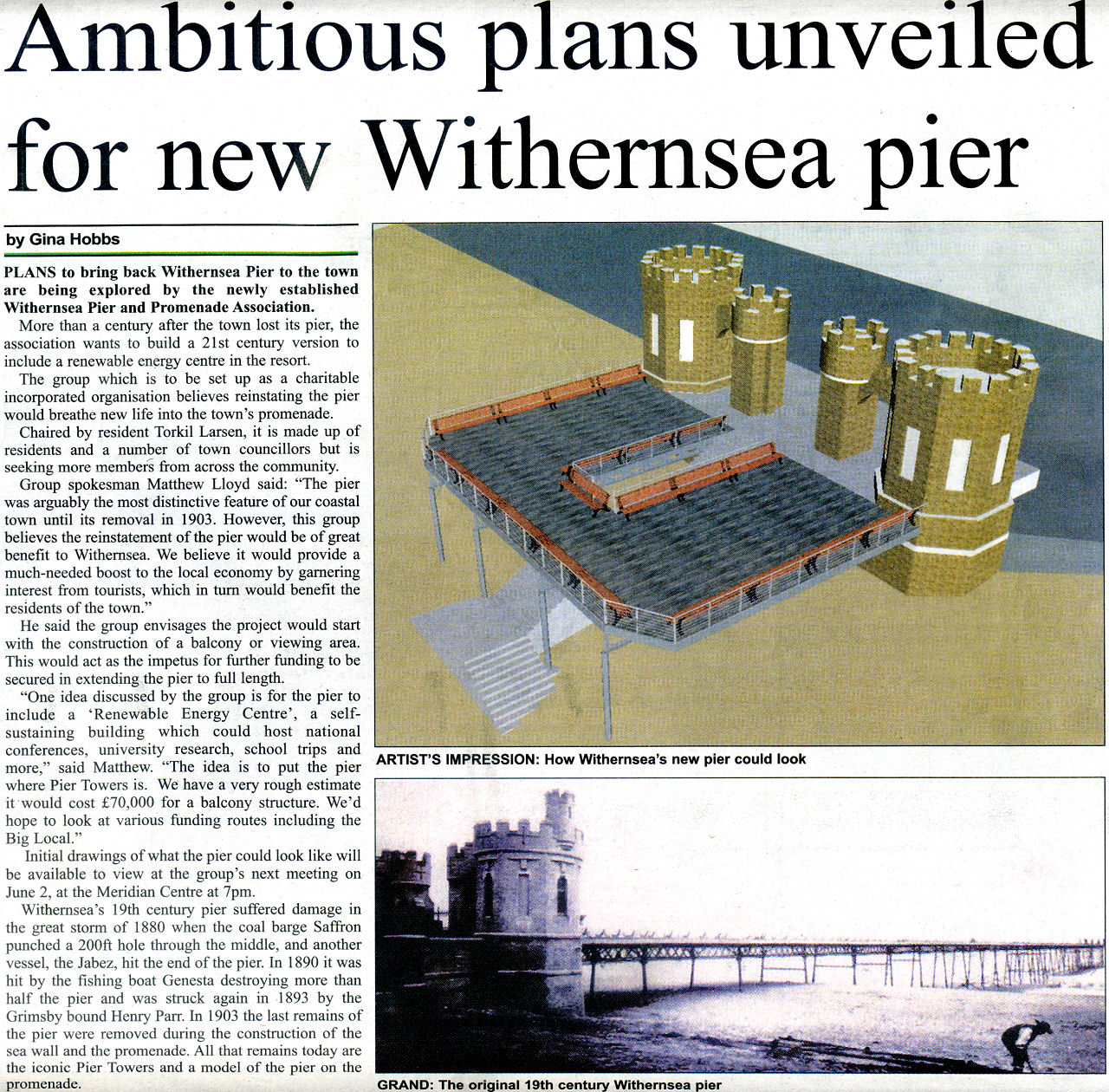 The Hull Daily Mail covered the story on the 13th of May,
the online atricle can be found here http://www.hulldailymail.co.uk/Withernsea-new-pier-fit-21st-century/story-29265812-detail/story.html