People
A list of notable people with connections to Withernsea.
Kenny Baker (1921- 1999)
Kenny Baker was born on 1 March 1921 in Withernsea, East Riding of Yorkshire and died 7 December 1999. He was an accomplished player of jazz trumpet, cornet and flugelhorn, and a composer.
More about Kenny Baker
Anthony Bannister (1817 - 1878)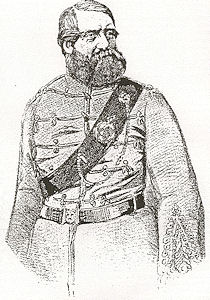 Bannister is known for his political role, becoming Sheriff of Hull (1849 and 1850) and Lord Mayor in 1851, and for his role in the promotion of the Hull & Holderness Railway. His grandest idea was the railway line from Hull to Withernsea which he promoted with zeal despite setbacks. The line was opened on June 26th 1854 running initially from Victoria Station on Hedon Road with stations at Marfleet, Hedon, Ryehill & Burstwick, Keyingham, Ottringham, Winestead, Patrington and terminating at Withernsea. In 1864 through trains from Hull Paragon were establsihed. the line closed to passengers under the Beeching cuts on October 19th 1964 and the final goods train ran on 3rd June 1968. As part of his plan he had hoped that Withernsea would become a fine resort to match places such as Scarborough and Brighton. It was a dream that did not come to reality but thousands of day trippers made the journey to the seaside after the railway was opened. Part of Bannister's rationale for building the railway was to serve the farmers of Holderness which it did by providing a quick route into Hull for cattle and food produce. In addition to the railway Bannister was also the Chairman of the Withernsea Pier, Promenade, Gas and General Improvement Company. The northern promenade was completed in 1873 and the pier four years later. Anthony Bannister died on 18th July 1878 aged 61, after catching a chill whilst participating in a regatta. He spent the last day of his life in Withernsea.
Cheverton Brown
One of the people behind the developement of Withernsea, decided to have his own private promenade built on the clifs behind his residence in Queen's Terrace
George Cammidge (1846 - 1915)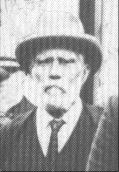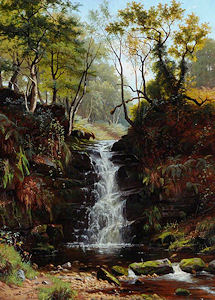 George Cammidge was a painter born in Welwick and studied at Scarborough School of Art. By 1861 he had moved to Cammidge St in Withernsea.
He produced about 50 paintings, mainly of scenes from Yorkshire. He lived in Withernsea until he died at the age of 70 on the 15th October 1915. He is buried in Rimswell church yard.
Florence Mary Scott Cavell (1867 - 1950)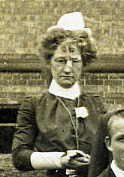 Matron of the Withersea Convalescent home from 1913 until 1945.
Lived at 227b, Queen Street.
She died 2nd June 1950 and is buried in the far North West corner of St Nicholas Church Graveyard, Withernsea.
Father was Frederick Cavell (Anglican vicar)
Her sister, Edith Cavell was a nurse working in Brussels as the German Army occupied the city in 1914. She was offered safe passage to England, but she refused and remained, caring for the sick and wounded and becoming involved in a clandestine network that secured escape to The Netherlands, a neutral country, for almost 200 English and French nationals.
George Cookman (1774 - 1856)
Born at North Cliff Farm in the parish of Owthorn (now part of Withernsea) He left home at the age of 13 and took up a leather finishing apprenticeship in Hull. In 1793 he became a member of the Wesleyan Society and remained an ardent Methodist for the rest of his life. George subsequently became a succesfull business man and built up a substantial leather finishing business and also bought much property.
In 1799 he married Mary Chambers from Halsham, and they had three children, Their eldest, George Grimston Cookman became one of the most eloquent Wesleyan Methodist clergymen in the United States and was Chaplain to the US Senate. George Grimston had a son called Alfred who followed in his fathers footsteps and became one of the most highly regarded preachers in the United States.
George Senior had strong political views, was strongly opposed to slavery and in favour of giving more people the right to vote. He played a major role in local government for the rest of his life and was mayer for two years from 1837.
He died in Stepney Lodge on Beverley road in Hull 17th April 1856. He is buried in the graveyard at St Nicholas Church in Withernsea just outside the entrance porch.
Cecil Langley Doughty (1913 - 1985)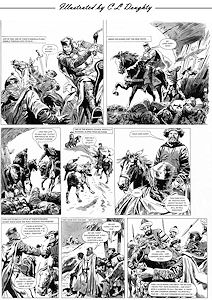 Cecil Langley Doughty (7 November 1913 – 26 October 1985) was Born in Withernsea, East Riding of Yorkshire. Doughty trained at Battersea Polytechnic, his earliest work was a comic strip appearing in Knockout and The Children's Newspaper in 1948. Doughty went on to draw Terry Brent for School Friend before finding his profession drawing historical strips for Thriller Comics, his first story adapting William Harrison Ainsworth's novel Windsor Castle followed by many stories featuring Robin Hood and Dick Turpin. In the late 1950s he also drew for Express Weekly and the Eagle, taking over the "Jack O'Lantern" strip in colour for eight months. In 1962, Doughty began producing illustrations in black & white and colour for Look and Learn. He proved to be one of the paper's most successful historical illustrators, his work appearing over the full twenty year history of the magazine. When Look and Learn closed in 1982, Doughty retired from commercial artwork to concentrate on landscapes. Already in his late sixties, Doughty held an exhibition of his paintings at Carmarthen, where he was then living. C. L. Doughty died at the age of 71.
Stuart Gray (born 1960)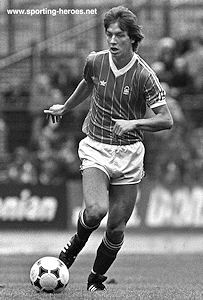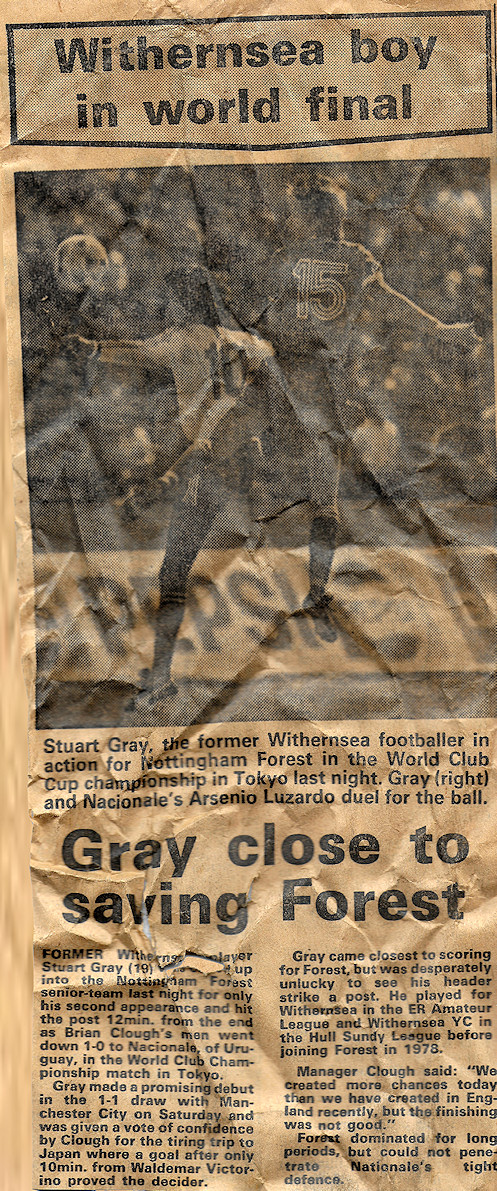 Stuart Gray (born 19 April 1960) is an English former football player. Born in Withernsea, East Riding of Yorkshire, Gray began his professional career with Nottingham Forest. He joined Barnsley in 1984 and continued to build a reputation as a steady and versatile player, scoring 11 league goals in the 1986–87 season. He moved to Aston Villa in 1987 and won promotion the following year and runners-up in the First Division in 1990. He has previously managed Southampton and Northampton Town as well as working as caretaker manager for a number of teams. He is current head coach of Sheffield Wednesday.
Winifred Holtby (1898 – 1935)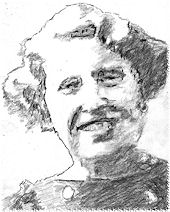 Born in Rudston near Bridlington, Winifred Holtby was an English novelist and journalist, best known for her novel South Riding.
Holtby's novel is located in the East Riding she knew so well. Kingsport is instantly recognisable as Hull. Kiplington,
the coastal town where Sarah Burton is headmistress, is an amalgam of Withernsea and Hornsea,
the seaside towns where Holtby lodged while writing the book which won the James Tait Black Memorial Prize for 1936.
The novel was adapted for the cinema in 1938. It was adapted for television by Yorkshire Television in 1974,
where the opening scene is filmed from the top of the Withernsea Lighthouse.
A BBC television adaptation by Andrew Davies, starring Anna Maxwell Martin and David Morrissey, was produced in 2010 and broadcast in February 2011.


Kay Kendal (1927 - 1959)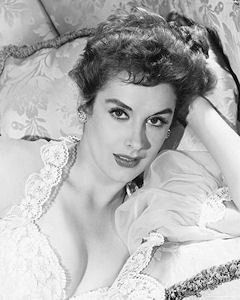 Kay Kendal was an English Actress born as Justine Kay Kendall McCarthy, at Stanley House, Hull Road, in Withernsea.
She began her film career in the musical film London Town (1946). Though the film was a financial failure, Kendall continued to work regularly until her appearance in the comedy film Genevieve (1953) brought her widespread recognition. Most prolific in British films, Kendall also achieved some popularity with American audiences, and won a Golden Globe Award for Best Actress – Motion Picture Musical or Comedy for her role in the musical-comedy film Les Girls (1957). Tragedy struck when leukaemia ended Kay's life at the age of just 33, at the height of her career.
Withernsea Lighthouse maintains a permanent memorial to the town's most famous daughter.
She was honoured with a commemorative blue plaque, unveiled at 61 Hull Road Withernsea on the 6th September 2014.
Richard Stead (1945 - 2012)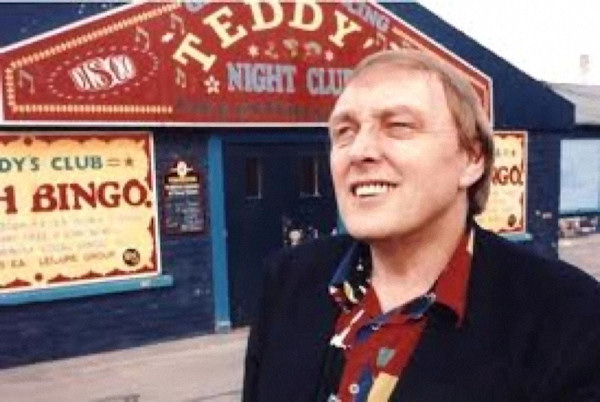 Richard Stead outside Teddy's
Richard was known for his career as an entertainment promoter and businessman based in his home town of Withernsea. He was highly-regarded in the town and will be missed by many. "He was extremely well-connected in the world of entertainment and counted Bruce Forsyth and Jimmy Tarbuck among his friends." The father-of-two made an early start in showbusiness. While head boy at Withernsea High School, he become the school's entertainments officer. After leaving school, Councillor Stead managed a number of local groups and set up his own promotion company. Among his coups was being involved in bringing The Beatles to Hull.
In the late 1960s, he joined forces with fellow local promoter Peter McLeod to form Perri Promotions, coming up with the then innovative idea of running all-night pop concerts and dances. In 1974, he joined the Teddy Clark group and became manager of Teddy's nightclub in Withernsea, overseeing a range of acts from Alvin Stardust to Ken Dodd and Bernard Manning. In 1987, he formed RS Leisure and later became the owner of Teddy's, as well as the Victoria Tavern and the Olympics Sports And Social Club in the town.
Before entertaining politics, he helped spearhead the Withernsea 2000 project, aimed at regenerating the resort. He was also involved in charity work in Withernsea, helping raise thousands of pounds for the Variety Club, Dove House Hospice and local schools and hospitals. One of his proudest moments came in 1995 when Prince Charles visited the town. "The highlight for me was riding through my home town with Prince Charles in a Rolls-Royce. You can't get much better than that." Beverley and Holderness MP Graham Stuart said: "Richard was warm, funny, effective and knew how to get his point across. "He was the ultimate community councillor, always taking up issues on behalf of people in Withernsea, the town he championed and loved.
(from Hull Daily Mail )