Withernsea Pier and Promenade Association News
It's been a good month for the Withernsea Pier and Promenade Association with us getting Planning Approval for the first stage of construction, and finally agreeing on the terms for the building and lease agreement with East Riding of Yorkshire council. Along with obtaining the Marine License in April, everything is now in place as far as permissions are concerned.
With our own funds along with a provisional grant of £38,618 from Ørsted's East Coast Community Fund, £6,000 from the Harold Bowler Foundation and £3,500 from Withernsea Town Council we have reached the required match funding needed to apply for a grant from the Rural Development Program for England. The full application for approximately £180,000 was submitted end of May. We now have a six to eight week wait to see if our application is successful.
Hodson Architects and Alan Wood & Partners have completed the detailed design work and drawings for construction of the Viewing Platform. We had to make some changes to the substructure to make sure the platform would be structually stable in the harsh winter weather. The construction work is currently out to tender. If we obtain the necessary funding, the contracts will be awarded in July with a plan to start construction in September or October this year.
News Update May 2019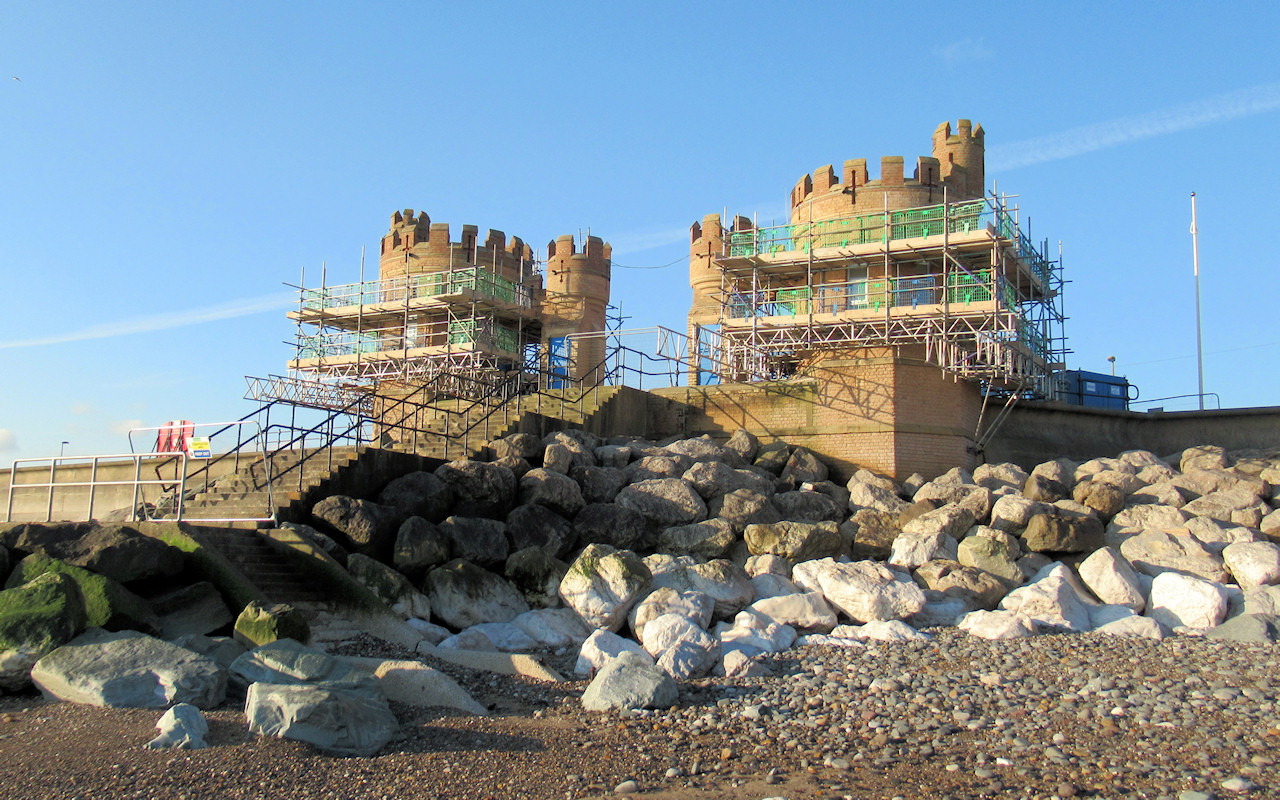 Refurbishment of the Pier Towers is now nearing completion. The damaged windowsills have all been replaced, broken windows repaired, and the leaking roof has been fixed. Some of the pointing between the bricks was in a very poor state, and is being repointed using a suitable lime-based mortar. The insides have also been refurbished with newly painted walls and new lino flooring to replace the old carpet tiles.
The scaffolding will be coming down middle of May, and the work is due to be completed by the end of the month.
Once completed, the towers will be transferred over from ERYC to the WPPA as a community asset. We are looking forward to bringing the towers back into use after many years of standing empty. We are planning to have a history display of Withernsea showing what the town looked like in the past including the original Withernsea Pier. There will also be a display showing our plans for the new pier. In addition, there will be information about renewable energy, use of solar and wind power and the impact of the large wind turbines seen on the horizon. We will have information about local attractions and general information for tourists.
There will be an opportunity for local traders to use the towers, and eventually the Viewing Platform for pop up stalls throughout the tourist season. If you are interested in this opportunity, please download our
Expression of interest form
and return it to the Pier Association.
News Update April 2019
Fundraising for the Withernsea Pier has just received a major boost from Ørsted's East Coast Community Fund. The Pier Association (WPPA) applied for funding in January and have just been provisionally awarded a grant of £38,618 towards building the first stage which will be a large viewing platform extending out from the Pier Towers.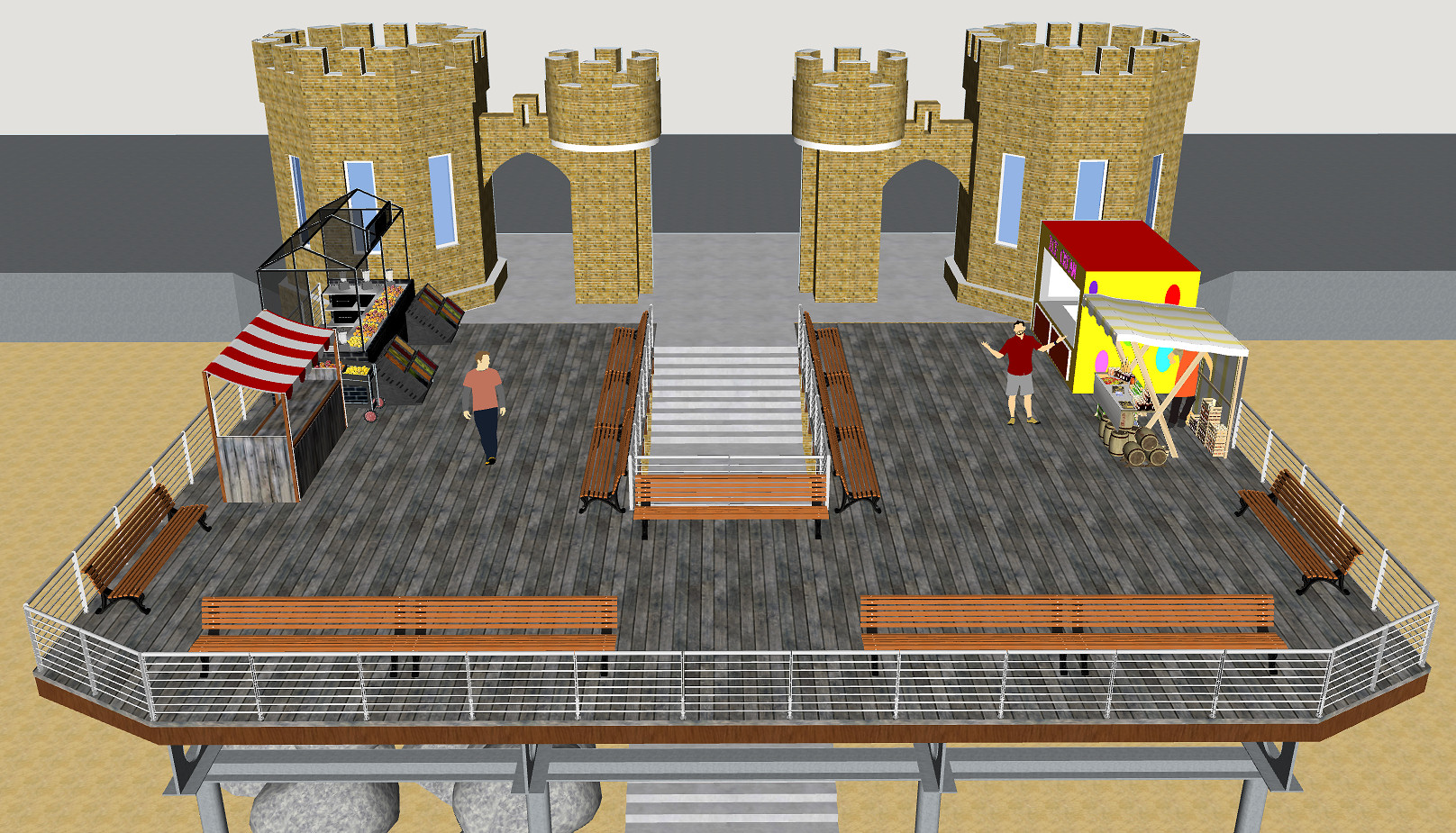 The WPPA are delighted that the funders have found our project worthy. We have been working on this project for over three years, raising just over £31,000 so far. This means that a grant from Ørsted's East Coast Community Fund would more than double our total funds raised to date to nearly £70,000. It's a fantastic boost to everyone at the Withernsea Pier and Promenade Association who are working so hard for this, and all our volunteers and sponsors who are supporting our project.
So far, we have spent most of the money raised on various reports and studies, licensing fees, planning fees, architect and design engineer fees. The grant from Ørsted's Community Fund will go towards the actual construction costs.
To cover the rest of the construction costs, the WPPA have applied for £185,000 from the Rural Development Program for England. We are at stage two of the application process and are progressing well in satisfying all the requirements of the funders. One of the major requirements was that we have at least 20% of the estimated £225,000 needed for construction. The grant from Ørsted's Community Fund has brought us a lot closer, and we are now only about £3,500 short of achieving this goal.

We are progressing well with all the other pre-construction requirements. The Marine Licence was issued on the 15/4/2019 and is one of the main requirements for the project. The planning application is moving forward and is now out for consultation and an agreement has been reached with East Riding of Yorkshire Council on the building and lease of the land.
This should put us in a very good position, and if we get the remaining funding we are applying for, we will be starting construction this September with an aim to be open to the public next summer.
If you would like to support us, please download our sponsor pack from our funding page.
News Update November 2018

A number of fundraising events have taken place this autumn. We had a live concert at the Golf Club, one at The Northfield and one at the Ozone Club. All three events featured great artists who performed free of charge to help raise over £600 for the pier. Andrea Burns and friends put on a Halloween Evening at the Northfield, and the Pier Hotel arranged a Pier Spooktacular event which raised an impressive £947.
Total funds raised for the WPPA as of 6th November 2018 now stands at £20,203.
At the end of October, we submitted our application to the Marine Management Organisation for a Marine Licence. This is one of the requirements to enable us to build on land which is in the sea at high tide.
We are also making progress towards a building agreement and lease with East Riding Council with a draft version now being considered.
Planning permission is also progressing well with our flood risk assessment done and an impact report nearly completed.
The WPPA have put in a bid to the Coastal Revival Fund to pay for a structural engineer and architect to develop technical drawings and costings to stage 4 of RIBA plan of works. This work will enable the WPPA to be ready for construction when sufficient funds have been obtained. We are still waiting for a decision to our application.
We applied to the Coastal Communities Fund Round 5 for funding for the first stage of the Pier. Unfortunately, this has been unsuccessful due to the high level of competition. This year the Fund received a total of 285 Stage 1 applications worth £246 million; however, they only had a budget of approximately £40 million to spend.
We submitted an expression of interest to the Rural Development Program for England (RDPE) early in 2018. Our EOI was endorsed and we were invited to submit a full application for funding for the first stage of the Withernsea Pier. The full application has a number of tough requirements, but if we succeed it will pay for most of the £200,000 cost of the first stage. One of the biggest hurdles is that we have to have at least 20% match funding which is £40,000 so we need to find a large sponsor quickly. Even if we don't meet the requirements for funding this time round, we are steadily working through all the requirements so that we will be ready for the next round of funding.
News Update September 2018

We had a stall at the 3 day Withfest event. There was a lot of interest in our Pier Project and Victorian Bathing Machines which were used to display our sponsors and the latest plans and drawings of the pier. We also had a tombola and raised over £200 for the Pier.
Ruby Reds concluded their Bring Back Our Pier tour with a fabulous show at the Northfield and presented the WPPA with a cheque for £1,601.80p. A great result thanks to all the hard work by the Ruby Reds.
We received a reply from East Riding Planning office to our pre-planning enquiry in August. The main requirements were for us to:
- Consider the impact on coastal processes and maintenance of existing coastal defences
- Apply for Marine licence from the MMO
- Submit a flood risk assessment
The reply concludes that the proposed pier plans could be supported subject to the above matters being addressed. It will obviously still have to go through the full planning application process.
A proposed building agreement and lease was received from ERYC on the 16th August 2018. Some points need clarifying and further discussions will be held to come to a final agreement. The proposed agreement will assist us to secure the necessary funding for stage 1.
The summer was also a good time to bring on more sponsors and new members. The total now stands at 105 Sponsors and 106 members.
All our sponsors are listed on our sponsors page.
We have a number of events booked for this autumn. All events are free.
Friday 14th September 8.00pm Music Concert at Withernsea Golf Club with James Danby, Work in progress and Ric & Lou's loudhailer.
Friday 28th September Music Concert at the Northfield with Stuart Dainty, Carry Martin and The larks.
Friday 26th October Live music at the Ozone Club with Helen & Nick Stubbs and the Aldborough Cowboys.
Saturday 3rd November Halloween evening at the Northfield by Andrea Burns & Alison.
For more information please visit our Facebook page.
News Update June 2018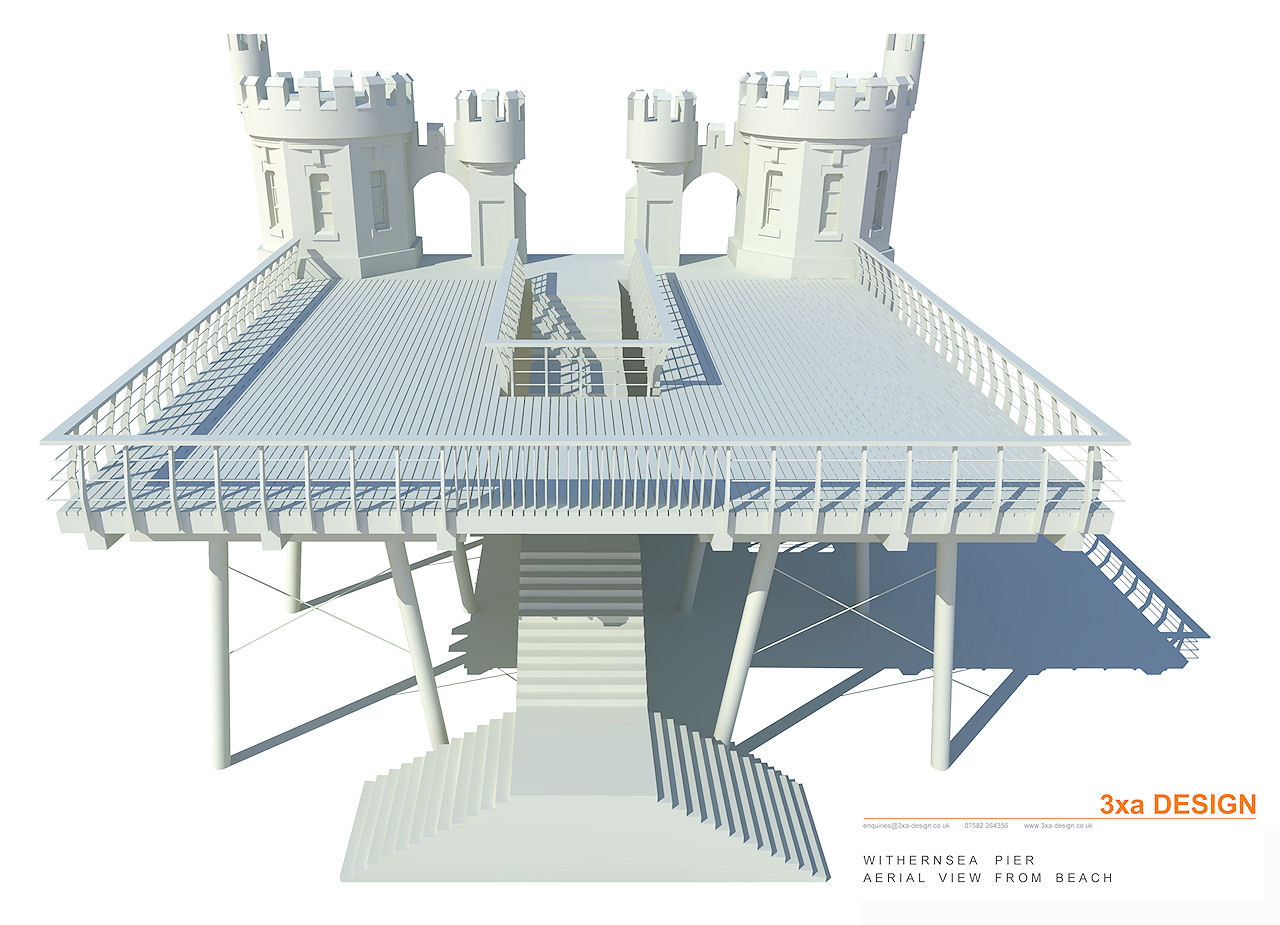 Architect Robert Blundell from 3xa Design has produced some faboulus drawings of our new pier. We will use these drawings when we submit our pre-planning application to ERYC this week.
The Ruby Reds are doing a great job raising money for the Pier with their Bring back our Pier Tour. They have already had sucessfull performances in Withernsea, Keyingham and Sproatley. Next shows are:
Friday 29th June 7.30pm at Cleveland Club in Hull
Saturday 30th June 7pm Skipsea Village Hall
Friday 6th July at Khardomah 94 in Hull
Friday 13th July 7.30pm at the Floral Hall in Hornsea
We attended the official Withernsea Pavement Fountain opening event in May and will be at Withfest from the 3rd to 5th of August. Look out for our Victorian Bathing Machines and come over to have a chat and see our latest plans.
News Update April 2018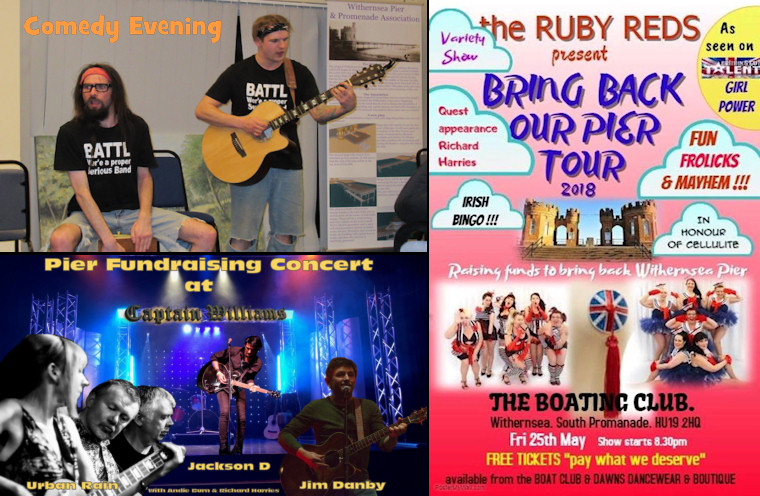 Our recent Comedy Night at Shores was a sell-out success, raising over £200 towards the Withernsea Pier Fund. We also had our first free concert at Captain Williams raising another £133.
WPPA are pleased to announce that we have teamed up with the Ruby Reds who will be raising funds for the Withernsea Pier on their Bring back our Pier tour 2018. First event will be at the Boating Club in Withernsea on the 25th May, second event in Keyingham Village Hall on the 8th June. Lots of more dates and venues to follow.
We held our AGM at the Meridian Centre on the 12th of April. The Chairman introduced the Committee, and then gave a presentation via Powerpoint of the Withernsea Pier And Promenade Association over the past year, the process of building in Stages, and the cost of each stage and our publicity and fundraising strategy. This was followed by a Q&A session. The current comittee members were unanimously reelected.
News Update December 2017

The Fundraising concert was a great success raising £558.20 for the WPPA. We had a stall at the WRCG Fireworks event. Despite the bad weather we managed to raise £60. We also attended the Christmas Light Switch On. There was a lot of support for our plans, and our tombola raised a further £131.39.
News Update September 2017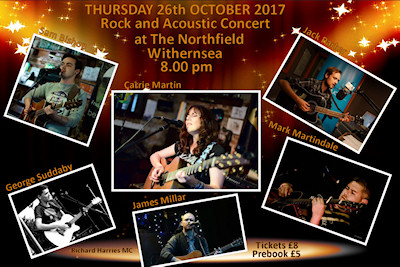 The ongoing fundraising in Withernsea is going well. We are getting new sponsors, new members and selling tickets to our fundraising concert on the 26th October. If you haven't yet got your tickets, you can get them from The Northfield, Carousel on Queen Street or the Shores Centre on Seaside road.
We have updated our sponsorship pack which is a short document summarizing our plans for the pier, along with a sponsorship form. You can download a copy here. We are also starting to preparing our applications for the large funding sources. We now have an extensive list of possible funding sources for us to consider. One of our targets will be the Coastal Communities Fund. The 5th round of funding will open for applications early 2018 and we have a lot of work to do to be ready for it.
News Update June 2017
Following last month's appeal in the Gazette for pictures of the Pier Towers, The WPPA are grateful to Mark Dawson for the pictures he has given us of Pier Towers before and during the construction of the steps. We would also like to thank councillor Lyn Healing and ERYC Planning Department for providing us with plans of the construction of the steps. This information will assist us in designing the first stage of the new Withernsea Pier.
We are in dialogue with East Riding of Yorkshire Council, the Environment Agency and a number of other consultees to determine what reports, surveys and consultations we need to undertake for the Withernsea Pier. It would appear from the response so far that there are no major hurdles to building the first stage if we can raise the £200,000 needed for construction.
Our plan for fundraising is to gain maximum support from residents and local businesses, and then use that momentum to apply for larger amounts of funding from bigger organisations. See our
sponsorship page
for a list of our sponsors so far.
News Update April 2017
The Feasibility Study, funded by Withernsea Big Local has now been done, and the report received. In layman's terms, the result is that to rebuild a Pier at Withernsea IS feasible. So we have the green light to go ahead and concentrate on funding construction. There is still an amount of work to be done on research (foundations, piling types, coastal effects), but the Pier is now one step closer to being built!
We have used the donation from Tesco to print leaflets and make Pin badges, which will be used to raise awareness at events in the Town. Two large "pop-up" banners highlighting the Pier Project have been funded by a private sponsor, which will be used at events to attract interest and detail explanations of the project and why it is important.
We will be attending The Great British Coast National Conference and promoting our project.
Plans are afoot to use the Pier Towers, with the permission of ERYC, to promote the Pier project at events this summer.
A Request for Screening and Scoping Opinion has been sent to ERYC to clarify what enironmental studys etc we need to undertake.
News Update February 2017
After funding was secured for a Feasibility Study (from BigLocal), invitations to tender were sent out to eight interested firms. Following the closing date for tenders, the replies were evaluated thoroughly at the January 12th meeting of the WPPA, and reduced to a shortlist of two. After replies had been received to a number of queries on both Tenders, a further meeting was held on January 27th, and the decision was made to award the work to A&F Consulting Engineers LPP.
A Steering Group Meeting and site visit was held on Friday February 3rd.
This is a real milestone for the initial phase of the project!
The primary objectives of the study are to:
- Evaluate the proposed construction and suggest any suitable construction options.
- Identify any further studies that may be required and the possible cost implications.
Specify which of these are needed for Stage One, and for the whole project.
- To determine a rough cost of each of the four stages of construction.
- Provide a step by step plan to complete Stage One.
The final report is expected middle of March 2017.
Funding has also been received from the local Tesco's, which will be used to help produce badges and leaflets to further the promotion of the project, and get word out and create more interest. A presentation was made by both the Service Manager and Community Champion with five of the WPPA members, and the Gazette Photographer was on hand to record the event. This was published in the Gazette of February 2nd 2017.
The application to register as a charity was turned down by the Charities Commission, the project did not meet their criteria. Discussions about the future of the WPPA could include the WPPA becoming a CIC (Community Interest Company) Meanwhile, the WPPA has now been registered as a Company, Limited By Guarantee, and registered at Company's House.
The WPPA Bank Account is all set up, with monies paid in, hopefully more to follow through fundraising events in the future and donations/grants.
The position of Vice-Chairman, which had become vacant, has been filled by D Edwards. Richard Harries, recently joined, has been seconded to assist the News and Media position.
Our Business Plan is being drafted and updated
News Update December 2016

We are pleased to announce that our application for funding from Withernsea Big Local has been approved. WBL have agreed to fund a feasibility study for the Pier. It will verify our plan, give us a better idea of costs, and determine if our goals are achievable.
News Update November 2016
We are in the process of crafting a consultant brief, to be presented to businesses that can carry out a feasibility study. We have been liaising with East Riding, Withernsea Big Local, and multiple engineering companies while we put it together.
News Update September 2016
WPPA are grateful to have secured £200 of funding from the local Tesco store in Withernsea, for the production of leaflets and stickers to promote the group and our objectives.
THE MERMAID RETURNS
A mermaid tale by Richard Harris

Media coverage
Media coverage is now on a new page. You can find it here.
Withernsea Pier and Promenade Association Ltd. 2 High Brighton Street, Withernsea HU19 2HL. Registered in England. Company number 10593143